Chiropractic Care
What would you like to do more if you weren't in pain? Play with your kids or grandkids? Take up CrossFitting? Run that 10K? Whatever your goals, we want to help you achieve them with chiropractic care at Envive. It's our hope that people make us their first choice in health care versus a last-resort option.
Ready to Get Your Life Back?
Here, we'll provide fast, friendly, and affordable chiropractic care to address your discomfort so you can live your best life. We make ourselves accessible and help patients get out of pain as quickly as possible, and then give them options for future care.
The focus of this natural form of health care is to help your brain and nerves fire at a level at which they're supposed to. With chiropractic care, you'll see results faster than most other interventions.
Common Conditions We Help
Back pain
Car accident injuries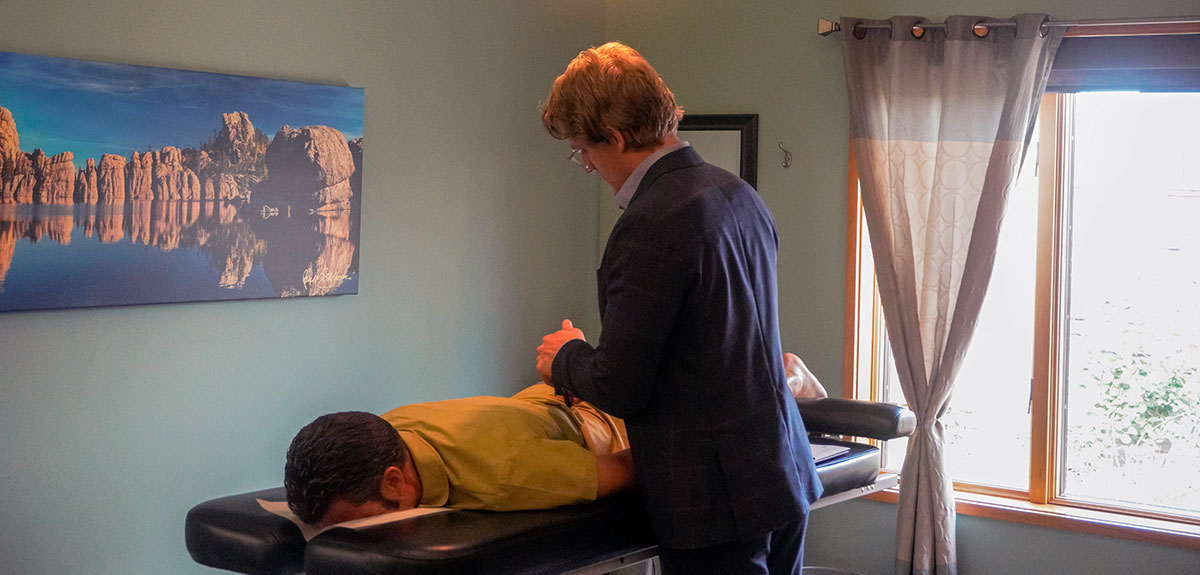 Our Techniques
We provide both manual, hands-on adjusting approaches, as well as the Activator instrument. Our doctors will select the technique or combination of techniques that best addresses your particular condition. After all, you're not a number, but a valued patient that deserves a customized experience.
New Patient Journey
Many people wonder if they will have to be under chiropractic care for the rest of their life. The choice of how long you want to receive chiropractic is always up to you.
Let's say you come in with 10/10 neck pain and headaches, and then after a week of care you have 0/10 neck pain and headache and feel amazing. We would recommend you continue with care in some capacity (e.g. once a month). We strongly believe in the value of maintenance care. It's like keeping your car running at its peak by getting it maintained at recommended intervals.
Want to just come back if you need us again? That's fine too. Here, we're all about giving patients choices.
Frequently Asked Questions
How do you put nervous patients at ease?
Establishing a relationship with each patient is at the heart of what we do. We want to get to know you and understand your fears or concerns. In addition to responding to those, we'll also dispel any myths you may have heard about chiropractic.
No, not at all. We can use low-force methods that still get excellent results.
How long do I have to wait to get an appointment?
We accept walk-ins and take same-day appointments!
While we get excellent results for most patients, sometimes another practitioner is a better fit. We'll make sure we find someone who can help you, even if it's elsewhere.
Best chiropractor experience I've ever had in my life. I've already recommended you to everybody I know.

"Your staff was the nicest in the country! I have never experienced customer service like that before!"

Very nicely organized office and all the staff was extremely helpful and pleasant.

This didn't feel like other chiropractic visits. The friendly staff made every effort to help me feel welcome and relaxed during my visit, going above and beyond my expectations.

I will be highly recommending anyone needing a chiropractor your way. I could not believe the welcoming, friendliness, eagerness of all of the staff…

First time chiropractic patient and I'm not sure why I waited! Very professional staff and very personable as well!

The staff and doctor were excellent! I finally found someone who can help. I really appreciate you all! You helped with my care; I look to working with all of you!!!

Great experience for our whole family! Highly recommend!

Thank you for making my first chiropractic experience a positive one!

This was the most amazing chiropractic experience I've ever had!

Everyone was so professional. It was a first-class experience!

Positive, kind, and upbeat atmosphere and staff in a very neat, clean, and calming facility with high energy in a tranquil package.

Great first experience, they take chiropractic to a new level that I have never experienced prior with other clinics, I would highly recommend them.

Wish I lived closer so that I could get adjusted more often…

Feeling so much better. Thank you!!!!

It was a wonderful first experience-thank you!

Every one here is absolutely AMAZING. I feel like I am I am on my way to living so much better without almost of the pain I was having. THANK YOU SO MUCH!!!

Absolutely amazing! Loved every second of it, the staff was amazing top to bottom. People who you can tell truly care.

I highly recommend Envive to any and all of my friends and family. All the staff are very interested in how I'm doing and helpful when I set up appointments.

Different approach which stuck in the brain. Was more of an experience than just a service. Very thankful I could get in last minute.

The staff at Envive are incredibly pleasant people. From the second I walked in the door, to the moment I left, I felt important and taken care off!

Fantastic customer service, everyone friendly and helpful. A great place to get the right chiropractic care.

I was SO impressed with your services! Thank you! I plan to be back!

"Best I've felt in a long time, no pressure atmosphere, professional and polite." – Seth E

Staff is very upbeat and Dr Snyder truly cares about helping you feel better. Highly recommend Envive.

Just very thankful for all the staff! They are the only ones who have actually helped me!

Really love that place and I am glad to be feeling better!

You guys are upper echelon. Thanks for welcoming me and answering all my questions.

The way all of the staff cares for the patient makes it personal and allows for a VERY enjoyable experience.

I felt good after but very very good the following day!! Thank you for getting me in on such late notice & a Saturday to boot!!

I believe that God guided us to you and I thank you for treating us professionally and courteously. The medical profession hasn't been that way to us lately.

Wonderful service all around. Very gracious and knowledgeable staff and doctors.
Book an Appointment
You don't have to put up with pain. Contact us today to book an appointment. With us you have an advocate who will go to bat for you and get you the care you need!

Chiropractic Care | (605) 336-1188