Chiropractic Care
If you're unfamiliar with chiropractic care, you're likely wondering how Envive can help you. The 24 bones that make up the spinal column are there to protect your spinal cord, which links the brain to the rest of the body. If the spine is irritated, your body can't function as it should. Our care is designed to create the environment that allows your body to heal.
Safe, Effective, Tailored Techniques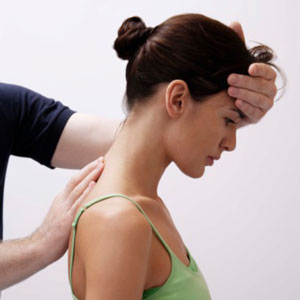 Chiropractic boasts a remarkable safety record. We provide a variety of chiropractic techniques based on your specific needs.
The many conditions we help include
Car accident injuries
Earaches
Headaches
Low back pain
Neck pain
Work injuries
What Our Patients Say
Read more below to see what our patients say about our natural form of healing!
"When I came to Envive I was experiencing severe neck pain, headaches, and stiffness. These are symptoms that I have had for over 20 years. These symptoms affected my day and my attitude and made me feel tired and sluggish. They also made it tough to get through my day's work. It would almost get to the point of making me feel depressed. When my body is aligned, I can function a lot better throughout the day. I sleep better and my overall health is better. My day and attitude are a lot better and it is easier to do things in general! After being in two automobile accidents in my life, and playing high school football, it is easier to lead a productive and fulfilling life with chiropractic care. I do not have to rely on drugs or medication for my pain relief."
– Kent
"Following an illness a few years ago, I suffered from frequent migraine headaches, and the level of relief I received from adjustments and massage therapy at Envive was amazing. Envive has been such a blessing in the last five years. I cannot say enough about the staff and doctors. Always pleasant, each employee has made me feel welcome and they are happy I am there. I can call any day during office hours and I know that I will be seen that day, without waiting! For a busy wife and mother, Envive fits into my lifestyle perfectly."
– Renae M.
"My care at Envive is great. They all really care. I am being treated for lumbar spinal stenosis. I had terrible pain in my back and down my legs. After several weeks of treatment at Envive, there was a great improvement with my pain and many of the other problems caused by spinal stenosis. I feel like a different person. I am starting to get out and go once again. The results have been greater than I had ever expected in such a short time."
– Delores B.
Discover How We Can Help
Contact our friendly team today to schedule your appointment! We offer convenient Saturday visits and late opening hours.
SCHEDULE NOW »

Chiropractic Care | (605) 336-1188