Chiropractic Care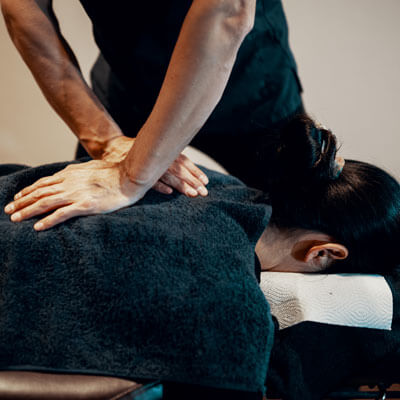 What would you like to do more if you weren't in pain? Play with your kids or grandkids? Take up CrossFitting? Run that 10K? Whatever your goals, we want to help you achieve them with chiropractic care at Envive. It's our hope that people make us their first choice in health care versus a last-resort option.
Ready to Get Your Life Back?
Here, we'll provide fast, friendly, and affordable chiropractic care to address your discomfort so you can live your best life. We make ourselves accessible and help patients get out of pain as quickly as possible, and then give them options for future care.
The focus of this natural form of health care is to help your brain and nerves fire at a level at which they're supposed to. With chiropractic care, you'll see results faster than most other interventions.
Back pain
Car accident injuries
Earaches
Headaches
Neck pain
Work injuries
We provide both manual, hands-on adjusting approaches, as well as the Activator instrument. Our doctors will select the technique or combination of techniques that best addresses your particular condition. After all, you're not a number, but a valued patient that deserves a customized experience.
Many people wonder if they will have to be under chiropractic care for the rest of their life. The choice of how long you want to receive chiropractic is always up to you.
Let's say you come in with 10/10 neck pain and headaches, and then after a week of care you have 0/10 neck pain and headache and feel amazing. We would recommend you continue with care in some capacity (e.g. once a month). We strongly believe in the value of maintenance care. It's like keeping your car running at its peak by getting it maintained at recommended intervals.
Want to just come back if you need us again? That's fine too. Here, we're all about giving patients choices.
Frequently Asked Questions
How do you put nervous patients at ease?
Establishing a relationship with each patient is at the heart of what we do. We want to get to know you and understand your fears or concerns. In addition to responding to those, we'll also dispel any myths you may have heard about chiropractic.
No, not at all. We can use low-force methods that still get excellent results.
How long do I have to wait to get an appointment?
We accept walk-ins and take same-day appointments!
While we get excellent results for most patients, sometimes another practitioner is a better fit. We'll make sure we find someone who can help you, even if it's elsewhere.
Book an Appointment
You don't have to put up with pain. Contact us today to book an appointment. With us you have an advocate who will go to bat for you and get you the care you need!

Chiropractic Care | (605) 336-1188