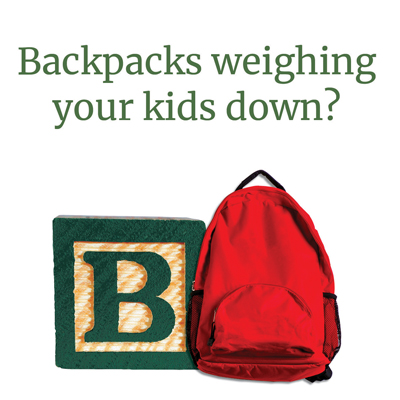 It seems like summer gets shorter every year! With the school year fast approaching we thought we'd put together a few resources to help you and your family transition.
Kids going back to school should be conscious of how they are wearing their backpacks. Here are a few simple things to check for to ensure your kids are causing themselves any harm:
Double Strap It
The results are in and while wearing one strap of the backpack is "trendy", wearing both straps is how backpacks are designed to be worn. "Double Strapping" distributes the weight evenly across both shoulders and is better for overall posture.
Load Front to Back
The heaviest items in the backpack should be carried closest to the spine (for any farmers out there, think of it like loading a trailer.) Also, adjust the straps so the backpack is snug against the back. If your child is being pulled back by the weight of the backpack; it needs to be readjusted.
Leave it in the Locker
Make sure your kids aren't routinely carrying a backpack stuffed to the brim. Only transport what is needed to ensure your kids aren't adding unnecessary physical stress to themselves.
Sports Physicals
If your child is still in need of a sports physical, we can help! Getting a sports physical done in our office also allows your child the opportunity to have their spine checked and adjusted to ensure they are set for a successful and injury-free season.
Stress
Back-to-school can add stress to anyone's routine. Pick-up and drop-off times, back-to-school traffic, practices, recitals, ball games, teacher conferences… Dare we say more?
The stress is felt by all. Kids, parents, and teachers.
Take Time For What Matters Most!
Take time for what matters most — you, your loved ones, and your health. We will be here to provide help in any way we can.
And, lastly, let kids be kids. Enjoy the journey and celebrate every milestone along the way.
Give us a call if you need us 605-336-1188.